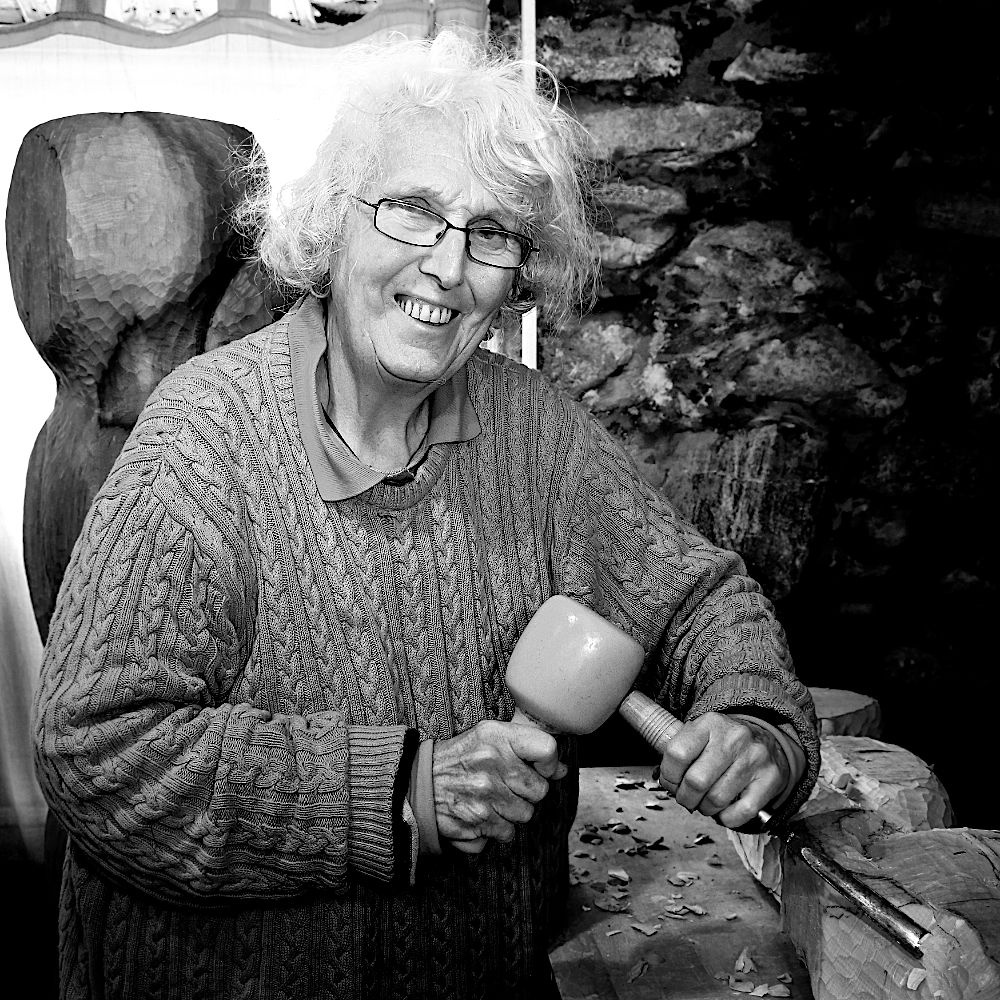 Dorothy Dick was born in Glasgow in 1932. She read Maths and Physics at the University of Glasgow, and before too long she made her way south to work with English Electric in Luton, Bedfordshire. She returned to Scotland to work with the SSEB (The South of Scotland Electricity Board), then with Babcock and Wilcox, and then with Britoil – all in Glasgow. At the age of forty she gave up a full-time engineering career to work part-time with Britoil, and in the mid-1980s she retired completely in order to pursue a sculpting career.
During her final years at school, art was something she had seriously considered as a career option, although she was never enthused by the prospect of teaching. She did however attend evening classes at Glasgow School of Art whilst a student, and when she moved to Luton, she was able to continue her art studies at St Albans School of Art (1956-59). Back in Glasgow, she trained part-time in the Sculpture Department at GSA under Paul Zunterstein (1960–65). She found herself a studio (she was almost persuaded to rent one which had recently been vacated by Joan Eardley) and began to exhibit. To her later Glasgow studio in Newlands was added a property in Scourie, Sutherland (her mother's native county) which she developed to create a further studio and gallery. The Dorothy Dick Gallery has been open to visitors – showing her own work and that of other artists - throughout the summer months from 1989 until 2012.
Dorothy Dick's sculpture is figurative: carved in wood (sometimes in stone) or modelled in clay and cast, usually in ciment fondu. She carves in the traditional way with mallet and gouges, filing and sanding, and finally waxing the surfaces to a soft, matt finish. She uses both native and tropical hardwoods – oak, elm and lime, and also iroko, opepe and mahogany, which have a less-pronounced grain and a richness of colour. Her wood sculptures are usually executed to a scale appropriate to domestic interiors; her cast works vary. Both are occasionally scaled for outdoor sites. Henry Moore's sculpture was a major influence on her thinking in her early years; references to African sculpture are also to be found in her masks and carved heads. Her early exposure to the landscape of Sutherland in the far north of Scotland has left its mark on her sensibility, and she continues to be inspired by its rugged majesty.
She has exhibited with Open Eye Gallery, Edinburgh (1979); Henderson's Gallery (Edinburgh) 1981; the Royal Scottish Academy; the Royal Glasgow Institute of the Fine Arts; the Glasgow Society of Women Artists; Hughson Gallery, Glasgow (1988) and the Lillie Art Gallery, Glasgow. She is represented in private collections in England, Scotland, Holland, Switzerland and the USA.
Dorothy's sculpture studio and gallery are located in the old village of Scourie. The gallery was for some twenty years open to visitors during the summer months, showing her work alongside prints and paintings by Scottish-based artists. Currently it is open by request only.